Hospital point-of-care FAQs
All of your questions about WebMD Ignite point-of-care advertising — answered.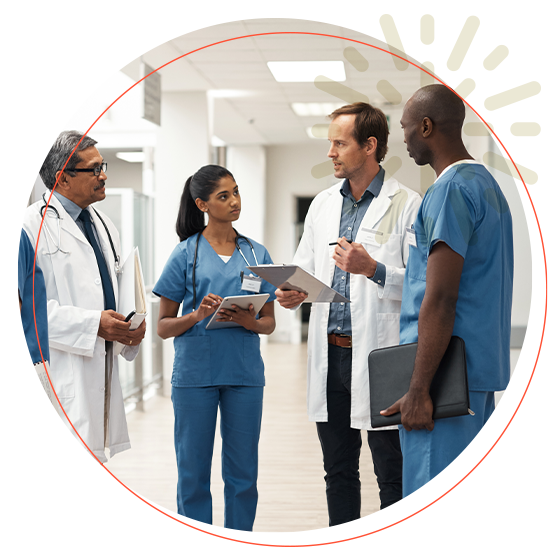 Frequently asked questions
Point-of-care advertising utilizes multiple media outlets in medical facility waiting areas and patient rooms to provide educational resources for patients. These advertisements target patients at a location and time when they are in the mindset to make health decisions and talk to their healthcare provider about treatments options that can improve their health. This strategy incorporates both digital and print media to offer helpful information for patients about the treatments and medications they receive.
At its core, hospital point-of-care advertising is designed to be incorporated into any setting within a hospital. These include waiting rooms and maternity wards to patient rooms and back office staff locations. It provides highly relevant, condition-specific information when and where patients are most receptive. Hospital point-of-care advertising content seeks to provide health education to patients, increase engagement between patients and their physicians, improve compliance, and optimize health outcomes.
Physician point-of-care advertising seeks to inform, educate, and motivate patients within a physician's office, on the go, and in hospitals where physicians perform surgery and make patient rounds. Through back office media such as posters, brochures, and digital and print signage, the information targeted to providers enables physicians to learn about the latest treatments and aids in providing better health outcomes for patients.
WebMD Ignite uses a variety of media for in-hospital advertising, including television, print, and digital ads..
We utilize third party partners for audience and ROI studies, including Rx script lift analysis.
WebMD Ignite uses contextual and location-based targeting in hospital and outpatient facilities. Hospitals subscribe to our education and engagement solutions. Our solutions are integrated into the clinical workflow, and we have a strong working relationship with our clinical coordinators.
We offer NPI list matching targeting options to our hospital-affiliated physicians.
We offer custom solutions and point-of-care advertising for multiple industries within the medical, non-profit, and maternity sector. Contact us today to find out what we can provide your business.
We reach anyone who visits a hospital looking to improve their health. We're able to send messages to patients, their families, and their support networks when they're most open to health information.
We reach healthcare provider staff and affiliated physicians that subscribe to WebMD Ignite for their patient education and engagement needs.
Our content team partners with clinical advisors to produce evidence-based health, wellness, and patient education resources. The information we provide to patients complies with Joint Commission Standards and CMS Readmission Reduction Programs.
Our advertising solutions are custom-tailored to your specific needs, so pricing varies depending on your demands. The best way to learn about the pricing of our solutions options is to contact our team.
The more patients we reach through point-of-care advertising, the more people choose a healthier lifestyle. In a recent study, 97% of participants stated that they intend to put into action the knowledge they gained from the education they viewed. In another, 68% were more interested in talking to their doctor about medication advertisements they viewed on a hospital TV.
Hospital point-of-care media touchpoints
Hospital TV advertising
Our TV solutions can help you reach your target audience and educate them on critical topics during their care journey.
Digital advertising
Deliver the right message at the right time in a patient's journey and vastly grow your audience reach through our hospital point-of-care digital solutions.
Print advertising
Our print solutions offer an integrated opportunity to help patients navigate their health conditions.