DRIVING GROWTH
From Discovery to Recovery
Create seamless health experiences that engage, optimize outcomes, and build lifetime value.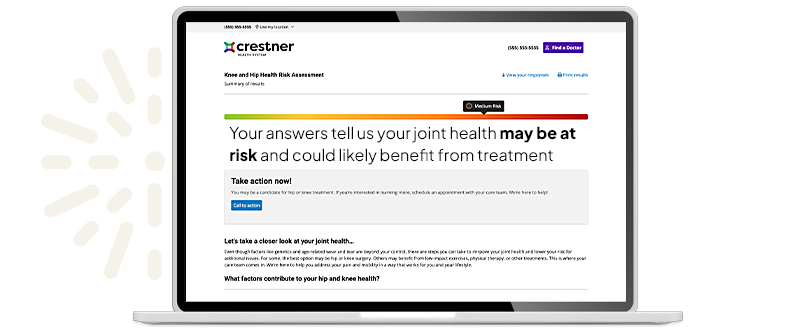 A better way to HRA
Introducing HealthAdvisor: consumer-friendly health risk assessments that invigorate healthcare engagement. Positive and inclusive, HealthAdvisor encourages active consumer participation in their own healthcare, helping increase contribution margin and deliver substantial ROI.
Connect with individuals at every stage of their journey
WebMD Ignite is the only partner that can enable you to engage, attract, guide, educate, and retain health consumers throughout the entire health journey.
Solutions for every stage of the healthcare journey
The WebMD difference
Because 80% of consumers start their healthcare journey online, strong digital engagement is critical. Our relationship with WebMD, the most trusted online healthcare information provider, lets us help healthcare organizations develop a consistent brand experience. Our unrivaled audience base, clinically reviewed content and innovative methods for delivery allow us to:
Cover more than
90%
of the U.S. population with 110B impressions
Reach
2.2M+
physician and healthcare providers
Offer
250+
trained clinical propensity models
Deliver video content to
230K+
hospital television screens
Achieve measurable results
Our customers have seen the following results from our solutions1:
7:1
return on investment1
36%
greater patient retention1
5-25%
reduction in patient leakage1
69%
had higher HCAHPS scores than their local competitors2
85%
had lower lengths of stay compared to their local competitors
References
1 Mercury Healthcare internal data 2 Krames HCHAPS Impact Report
Ready to ignite your consumer experience?
Our team knows how to develop meaningful experiences throughout the health journey. Let us put our expertise to work for you.