The next evolution in patient education: A Q&A with WebMD Ignite and HIA
October 18, 2023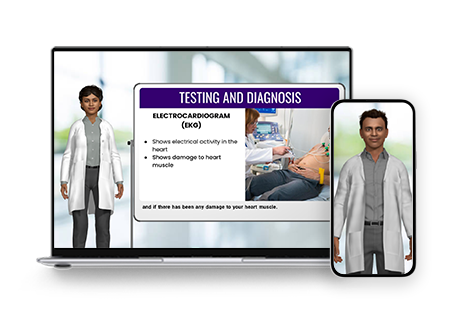 Recently, WebMD Ignite and HIA announced their partnership to offer HealthInteractive, a solution that combines WebMD Ignite's industry-leading education with HIA's two-way, interactive technology called Aivio®. Here, Dr. Alidad Ghiassi, the Chief Medical Officer of HIA and Brennan Stratton, VP of Client Services and Commercial Sales at WebMD Ignite, provide insights on the evolution of patient education and how HealthInteractive empowers and educates health consumers. 
Q: What are some of the known challenges with educating patients? 
 
Alidad Ghiassi: The biggest challenge is getting patients to focus on the information you're sharing in a high-anxiety environment. And it's important to note that providers aren't just educating the patient, but educating the entire care team as well. The narrative has to be consistent with the patient, their family, and the staff. 
Brennan Stratton: That is spot on. I would add that another major challenge is assessing comprehension. It is one thing to provide education, but it is another to actually measure if that education is adding value, if patients are comprehending what they are receiving, and if it is actually helping lead to better health outcomes. Everyone learns differently as well, meeting patients where they are and providing different avenues to learn is becoming increasingly more important. 
Q: WebMD Ignite recently announced its partnership with HIA to offer HealthInteractive. What is that offering and how will it help with these challenges you previously mentioned? 
 
BS: We are really excited about our partnership with HIA. It combines the best of our leading content from Krames by WebMD Ignite with HIA's two-way virtual engagement platform. This partnership's biggest value for our customers is allowing for that two-way engagement to help patients and their families better understand their health journey, which hopefully leads to better outcomes. There is a gap in healthcare right now when it comes to understanding where patients are falling off, where they need help, and what questions are going unanswered. HealthInteractive allows us to close that gap, as well as show a more effective ROI on patient education. 
Q: Is this technology meant to replace patient-clinician interactions? 
 
AG: No, and it's a common misconception of these types of tools. The fact is that you can not replace humans. We have created technology that augments the reach of clinicians. In my practice, HIA's solution extends my reach and brings me relief, because I am not stressed about whether I told the patient every single thing that they needed to know. Basically, this technology can be accessed by a patient 24/7 outside of their clinical encounter, which lowers anxiety on both sides, and improves patient experience throughout the healthcare journey. 
Q: How is patient education evolving and why does it make sense for WebMD Ignite to work with HIA? 
 
BS: Patient education is evolving by meeting patients where they are - from a literacy perspective, in the format they best learn in and have access to, and in increasingly more interactive ways that better align with how people consume content in other aspects of their life. Working with HIA allows us to provide this interactive platform for patients to ask questions from digital assistants in the platform, reference information, and reinforce learning as they go. Instead of overwhelming patients with tons of information all at once, it supports learning in smaller chunks. This tool also offers personalization, recognizing that each person's learning experience varies. It's not a one-size-fits-all solution for education. 
Q: How does a patient access HealthInteractive? Can you walk us through how this actually works?
 
AG: This is a web-based app that can be accessed through a variety of ways such as a link, a QR code, or a message through an electronic health record (EHR). In my office, I provide printed QR codes, send templated messages through my EHR, and also have the technology embedded in my website. Then, patients can access the platform both pre- and post- visit. 
Q: How is using HealthInteractive different from searching content already available on the internet? 
 
AG: HealthInteractive only provides specifically curated Krames by WebMD Ignite content, which faces rigorous content standards. So you know it's evidenced-based and vetted. Alternatively, Google searches can lead to inaccurate information from unverified sources. 
It's also important to note that HealthInteractive is a closed AI system, meaning that it does not interact with other systems or external content. So it's only pulling responses based on the Krames by WebMD Ignite content that has been selected by the provider.
Q: Will this type of technology replace other forms of patient education? 
 
BS: No, this technology is meant to be another channel to educate patients and their caregivers, but it won't replace traditional forms of patient education. Having options for patients has become increasingly more important since everyone learns in different ways. Providing options helps personalize and tailor the patient experience. 
Q: As a clinician, what do you think the benefits are to using HealthInteractive? 
 
AG: The primary benefit is anxiety reduction in patients both pre- and post- procedure, which has been shown to positively influence physiological outcomes. Any time you provide a safe space for patients to ask questions they might not otherwise ask, you create an environment of growth. And as I mentioned, the care teams benefit too. Each session results in insights data that allows us as clinicians to better understand our patients and how to reach them. 
Q: What is an example of the type of content that patients can expect to see? 
 
BS: Our initial focus is on supporting key service line areas, where cancellations and no shows are common due to patients not really understanding the prep or procedure. Increased anxiety because of that unknown or not adequately preparing for a procedure due to lack of education are common drivers for cancellations. We're also focusing on chronic conditions, where it's extremely important to communicate with patients in an ongoing manner. One of the key benefits of this technology is that we can build any topic area into this. If an organization has a need to cover a specific topic, we can accommodate that because of our vast array of existing content. 
Q: What's next in terms of AI in healthcare - and what emerging trends do you see on the provider side? 
 
AG: I think the common themes for the future of AI in healthcare will be around patient engagement and education in an ever-complex knowledge environment. That will involve integrating diverse data for advanced diagnostics. For example, combining smartwatch data, shopping habits, social determinants of health, and CT scans could predict pancreatic cancer risk. 
BS: I 100% agree with Dr. Ghiassi from a data standpoint. From a consumer perspective, I think everyone will eventually have a digital health assistant that helps them better navigate the healthcare process and provides reminders and a host of other functions that are personalized to that individual. Consumers are going to demand a better healthcare experience and that will be the catalyst for the next big change in healthcare.